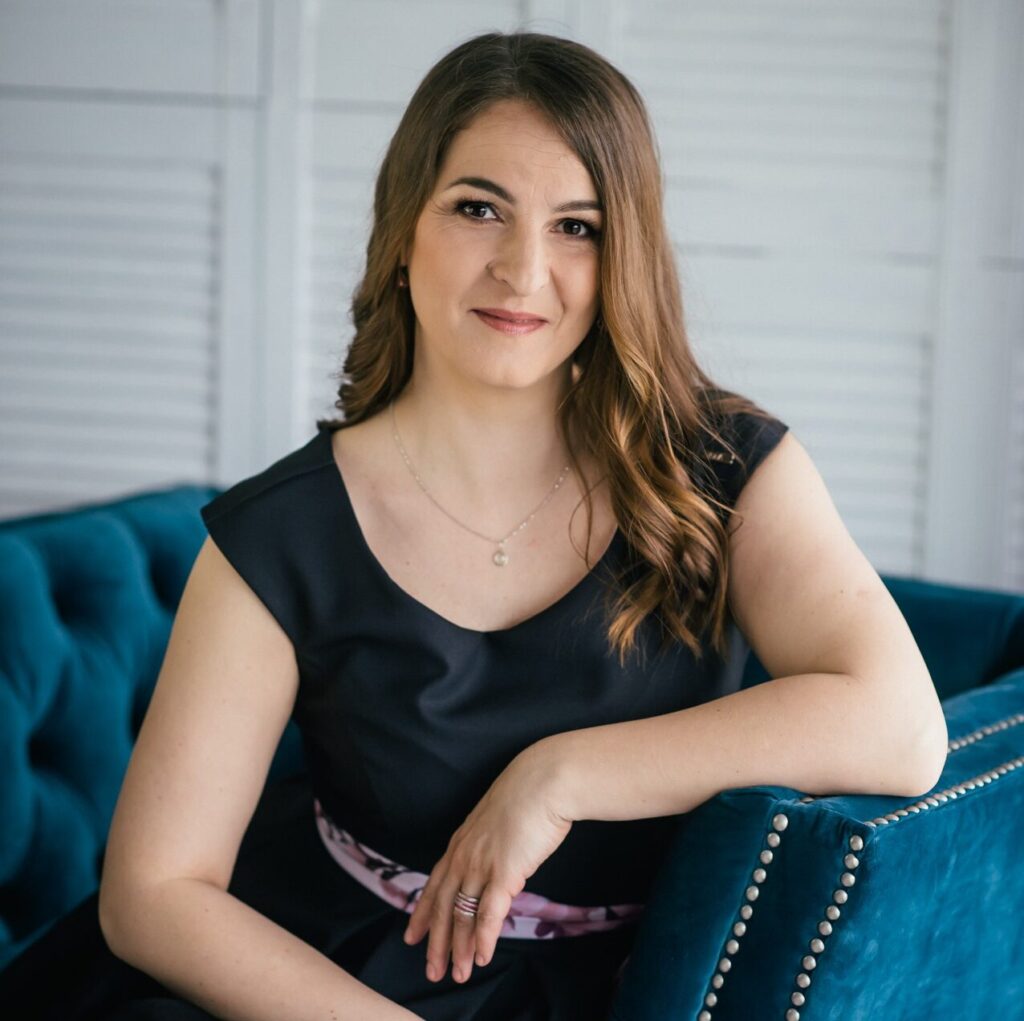 My professional title does not cover everything I have learned and use in my daily work as a therapist. The one that best sums up my style, developed over 10 years, is transpersonal and therapeutic. Perhaps just as each person is different, so are the approaches and therapeutic techniques, tailored to the client. The client does not have to fit into theories and predetermined frameworks but as a therapist it is my responsibility to create a form of therapy that is appropriate for each individual.
Certified Body Psychotherapist, certified Hypnotherapist and Psychotherapist, certified Systemic structural and Family Constellator, trainer, lecturer and creator and facilitator of adult self-development courses, wife, partner, mother and always a student in life.
For me, the human being is a whole, and if there is a difficulty anywhere, it affects all the systems that are involved – family, relationships, work, children, health, generations, etc. Therefore, whatever question is asked of me, it always reflects some kind of imbalance within the person. Whether it has been there for a long time, inherited or recently, it makes no difference. Everything has a cause and therefore a consequence. This is what I believe and what my practice has confirmed. There are many different ways of making the links visible and it always depends on the client. What is certain, however, is that when a moment of recognition occurs, there is a shift within the person and, according to the client's descriptions, there is a sense of lightness, more air, relaxation, peace and joy. Even if there is less of this at first, as one continues on one's journey, it grows over time.
In my continuous development, I have focused on acquiring different therapeutic methods, perspectives and skills, combining them with science, psychology and anatomy. My studies are ongoing in order to provide clients with quality knowledge and skills. For me, the client is equal to the therapist and it is always a collaboration, the results of which depend on both and not just one or the other. I believe that there is always greater power in collaboration. That is why I always share and support my colleagues or clients who go the extra mile and thereby contribute to a healthier future for generations to come.
I have collaborated with the Estonian Defence League, the private school in Estonia "Teadlik Mina", various interesting people from different walks of life (canoe therapy, lactose and gluten free diet, publisher, coach, sleep clinic, co-addiction therapy group, conferences, webinars, companies, podcasts, magazines).
The contents of my "toolbox":
Tallinn University of Technology, Masters of Science in Logistics (4+2) 2007
Transpersonal Hypnotherapist and Psychotherapist 3.y.training (accredited by the European Association of Psychotherapy)
Core Evolution Body Psychotherapy 3.y. Training (Core Evolution is a body and energy oriented professional analytical therapy, counselling and teaching system in holistic personality psychology). Siegmar Gerken, PhD.
International training programme (constellator training) "Client Centred Structures®" and "Constellations of Internal Parts" – G. Shabaylova (Belarus), M.Burnjashev (Russia), E. Kuznetsova (Russia), O. Knjazeva (Estonia)
Systemic – Phenomonological approach and systemic bases or classical family constellations (constellator training) O. Knjazeva (Estonia)
How to deal with childhood and family trauma through constellation work – practical seminar, Tiiu Bolzmann.
Systemic pedagogy seminar "You are one of us" – Marianne Franke-Gricksch (Germany)
Disease and symptom constellations seminar and refresher training – Stephan Hausner
Our connection with our ancestors between the past and the future – Tiiu Bolzmann (Systemic Family Therapist and Constellator)
Transpersonal family constellation – C.Farkash
ThetaHealing Basic DNA (ThetaHealing) Therapist Training I level
Play therapy – Sirli Kivisaar
Womben Sciences Immersion (6-week "All Science" course), Usha Anandi (USA)
Jungian Therapy Diploma Course – Centre of Excellence (UK)
Talking and listening to children – S.L. Kraav and T. Chiswell
Creating a conscious relationship between the body and self-awareness – C. Gerken
Stress and coping with trauma – O.Ayalon
Brain and mind exercises – Kerttu Soans and Helina Mägi
Good cooperation in our team – Meta Profit (NLP Center)
Internal leadership and goal setting – R.Fotedar
Active dreaming – Robert Moss
Let's make death our ally – R.Moss
Eating disorders – David Moat
Unleash the Power Within – A.Sydykova
On the other side of personal trauma: the existential meaning and purpose of life – J. Biechonski, A. Lattimore
Will of the heart – Core Evolution – S.Gerken
Power on Purpose – S.Westland and T.Barber
Hypnobirthing or natural childbirth – Kiia Paal (certified representative of Mongan method in Estonia)
Anatomy ABC course – Lia Loime
Access Bars®: Access Consciousness® – Kaidi Karilaid
Transpersonal coaching – M. Sole and J. Mestres
Inception Marketing Intensive 2018 – Eric Edmeades
Forgiveness circles facilitator training. The Gift of Forgiveness – Healing from the wounds of the heart – Olivier Clerc
Conflict resolution through drama therapy – PhD Esti Avnon-Calev
Transpersonal creativity – Nicolas Cambas, Hidai Liberman